I'm delighted that Dave Chaffey of SmartInsights has offered to share some of his considerable wisdom on the topic of optimum content distribution with us here. Read on, and absorb…
Ta Da! You have invested in creating the best blog content you can to encourage organic sharing via the social networks. Do you leave it there, do you trust to organic sharing or are you more proactive. Remember that 'Content Marketing' is two words, you have to promote it to get the most from the value in it.
This infographic, the Content Distribution Matrix is aimed at helping business owners and marketers choose the best ways to distribute or distribute their content.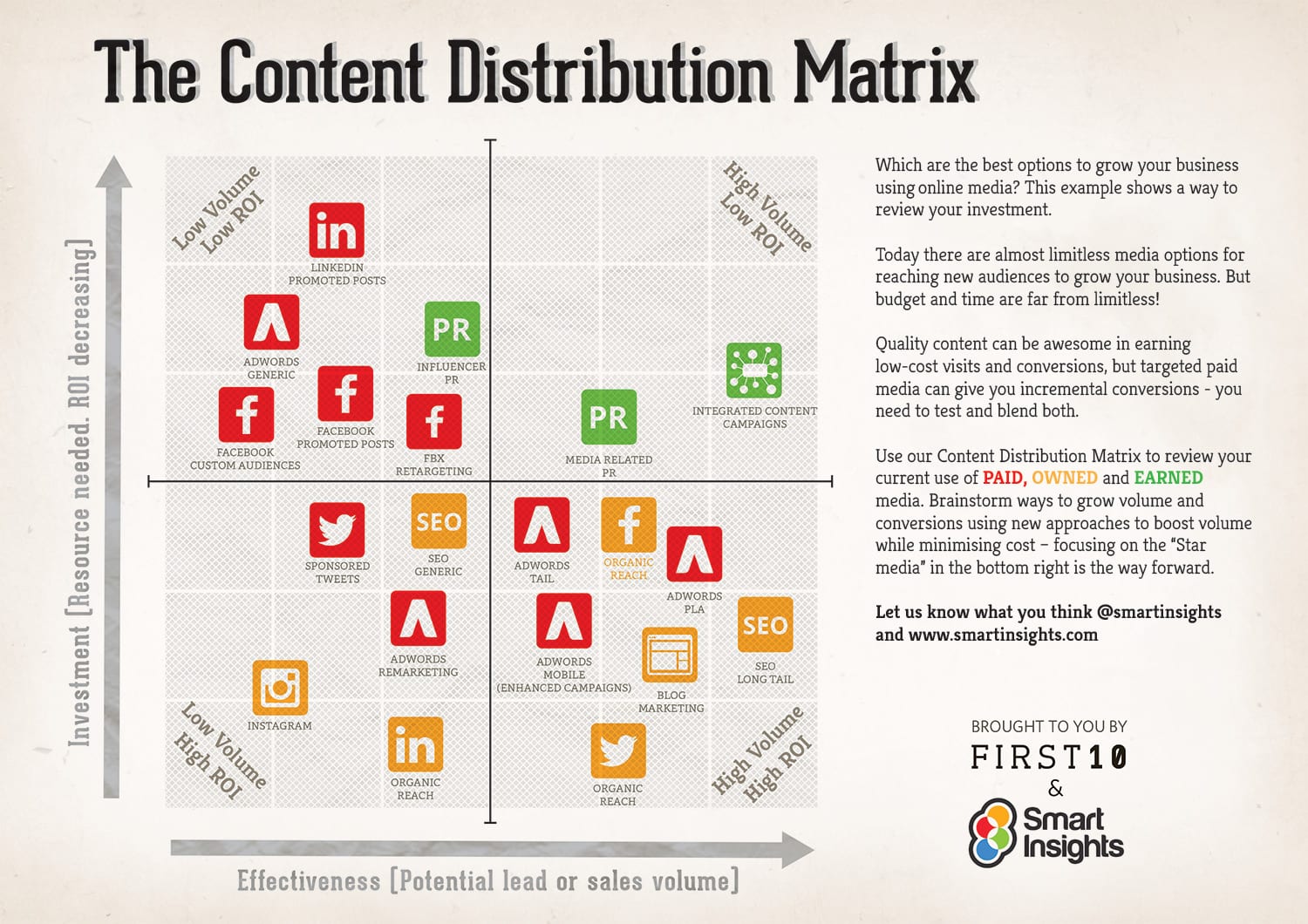 What you're trying to do is run tests to find the best media which will get you to the bottom right, where they generate both high volume and high ROI.
How to Use the Content Distribution Matrix
To get the most of it I recommend you run a content review and planning session using this 3-step approach which gives more details:
Step 1. Current use of media for content distribution
Start by marking up the current or past use of different paid-owned-earned media options for your business. Plot each media type on the horizontal axis based on its importance in the number of leads or sales you can attribute to it from a low-level of effectiveness on the left to the highest volume on the right. Next consider cost effectiveness on the vertical axis based on the time or money spent on promotion from lowest cost (or better overall return-on-investment) at the bottom to highest at the top.
Of course, using the matrix requires businesses to be already set up to measure content marketing effectiveness as explained in our guides to calculating content marketing ROI and the 7 Steps guide to Google Analytics for marketers.
Step 2. Review promotion gap against competitor or sector use of content distribution techniques
This step is easier to explain, but harder to mark up in practice. Here you review the full range of paid-owned and earned media options available to you, in particular. those you aren't using now. You have to assess what you think they could contribute in advance of a test to prove or disprove your hypothesis.
In this step you can also consider how other businesses are using content distribution in your sector. Since you wont have access to their analytics, this can only be based on an assessment of the types of techniques you see them using and any results you hear them reporting.
Step 3. Select and prioritise new methods of content promotion
Finally, you can discuss which options could be worth trialling in future tests, based on your discussion. There will likely be several new options, so it' a case of reviewing and setting up a schedule of what to trial and test . An additional use of this visual will be to consider new content partners who can be compared in a similar way.
You will see from our example, that there are many paid media social media advertising options now available, so this matrix can be used a reminder of what to test and if it's not effective, then you can move on to test new techniques as they become available.
If you found the Content Distribution Matrix, or even useful, check out our other infographic, the The Content Marketing Matrix which is aimed at helping businesses decide on the best types of content to tap into the emotions of their customers.
About the author
Dave Chaffey is CEO of Digital Marketing Advice site Smart Insights, he is author of five business books and the Content Marketing Strategy toolkit – you can download a Content Strategy checklist here.